Many people ask themselves, "Should I use a public adjuster?" Suffering damage to your home, business, or property can be overwhelming. In an effort to avoid the hassles and stress of dealing with the claim, you may be considering speaking with and obtaining the help of a Public Insurance Adjuster.
First, There Are Three Types of Licensed Insurance Adjusters:
• "Company Adjuster" is an insurance adjuster who is an employee of an insurance company. They represent the interest of the insurance company and are paid by your insurance company.
• "Independent Adjuster" is hired on a contract basis by an insurance company. This independent adjuster represents the insurance company's interest in the settlement of the claim. The independent adjuster is paid by your insurance company. They will not charge you a fee.
• "Public Adjuster" is an insurance adjusters who DOES NOT work for any insurance company. The Public Adjuster works for you, the insured. Your Public Adjuster will assist in the preparation of the value of the claim, present your claim to the insurance company on your behalf, and negotiate the differences until the claim is settled. You hire a Public Adjuster by signing a contact. You are agreeing to pay them a fee or commission based on a percentage of the claim settlement.
So, the question remains, Should I Use A Public Adjuster?
As you can see, the main reason you should use a Public Adjuster is because Public Adjusters are licensed to represent you, the property owner. Your Public Adjuster will represent your interest, your damage, and your rights under the policy. The Public Adjuster you select works directly for you, not your insurance company. Your Public Adjuster's job is to obtain the maximum amount of proceeds you are entitled to, under the guidelines of your policy.
"Policyholders won't always need a Public Adjuster's assistance with every claim," says Joe Brennan, President of Insurance Claims Group, Inc. and the go to consultant for clients of For The Public Adjusters, Inc. in North Carolina. "However, most people should consider speaking to a Public Adjuster to find out where they stand," he says. "You can never get enough information to make an educated decision." Brennan continues with, "How do you know without speaking with someone?"
When Should I Use A Public Adjuster?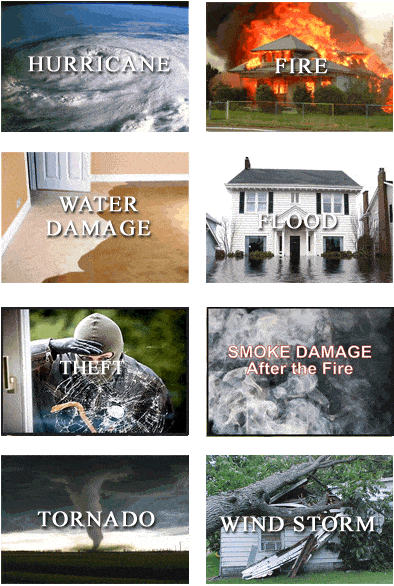 "Many policyholders will decide to use a Public Adjuster right away, because they don't have the extra time it takes to prepare their claim, meet with the adjuster, and deal with the whole claims process," Brennan says.
"A general rule of thumb is if your estimate gets up to $10,000 or more, it's probably wise to hire a public adjuster", says David Barrack, executive director of the National Association of Public Insurance Adjusters. "But, it really depends on your circumstances and how the insurance company is reacting," Barrack says.
If you're deep into a claim and your insurance company seems to have changed their tune by not responding to calls and emails, not agreeing with your contractor, or reject all the docs you send them, it may be time to consider speaking with a Public Adjuster.
Your insurance policy is very complex. Not knowing what you are entitled to under your policy will cost you thousands of dollars. Or even tens of thousands with larger claims. Unfortunately, this is more normal than not.
How Do I Find A Public Adjuster To Use?
The first, and most obvious, place to search for Public Adjusters is by searching the web. Google has some pretty tough requirements on websites these days to prove they are "real" companies. However, keep in mind that having a nice website and a Public Adjuster's license are not a guarantee you will selecting a good candidate to represent your claim.
Consider These Tips:
• Their Literature: Actually read their website information. If you can understand their website verbiage you will most likely not have trouble understanding when they represent you. Like, how they explain your policy and other claim details when you have questions.
• References/Reviews: Do they have reviews listed on their website? If so, read them. Ask to speak with some clients they have assisted.
• Compliance and/or Complaints: Ask the Public Adjuster for a copy of their license. Check with your state's Department of Insurance. Are they in compliance with all that is required? Are their licenses up to date with the Department of Insurance?  Ask the Department of Insurance if they have any complaints filed against them. Did the Department of Insurance rule in favor of the Public Adjuster or the client who complained? Ask the Public Adjuster to comment on the complaints.
What Will The Public Adjuster I Use Actually Do For Me?
Your Public Adjuster or appraiser should "inspect and document your damaged property and work to obtain every penny you are entitled to under your policy," says Joe Brennan.
Mr. Brennan also expresses to "not expect miracles". "Policyholders need to understand that their insurance company will not just roll-over and agree to everything they want just because they hired a Public Adjuster or Appraiser," Brennan adds.
Policyholders should be aware that hiring a public adjuster after they've already started processing and negotiating their claim can slow the process.
"If we are part of the claim process early on, it's not as difficult," says Brian Thomas, a Public Adjuster with For The Public Adjusters, Inc. of Apex, NC. Unfortunately, consumers don't know about Public Adjusters until they begin to see problems. Sometimes the assigned insurance adjuster sent by the insurance company changes details. This is the first sign of the need for assistance.
"When this happens, hiring a Public Adjuster could add a month or more to the claim process because your Public Adjuster has to start from scratch and renegotiate much of what's been completed already with the insurance company's adjuster", says Mr. Thomas.
Is It Profitable To Use A Public Adjuster?
In most cases, YES. However, as with anything in life, there is no guarantee that you will increase your claim payout by hiring a Public Adjuster. The Public Adjuster you choose should visit your damaged property and be able to provide some calculations that will assist you with making such a decision. If they can't provide numbers and guesstimates of where you will end up, keep searching for a PA that can.
A study conducted in Florida, which analyzed claims at one insurance company in 2008 and 2009, shows policyholders who hired Public Adjusters generally received higher settlements than those who didn't hire public adjusters. According to the study, the typical settlement to those who had the help of a Public Adjuster had and increase in claim proceeds of 747%, compared to those who did not have a Public Adjuster representing their claim.
Public Adjusters, however, do cost between 10 percent and 20 percent of the amount the insurance company pays on the claim.
Can You Negotiate The Adjuster's Fees?
The rates are sometimes negotiable, says Thomas, "but we pretty much stick to 15 to 20 percent of the claim. We've been around a long time and have much more experience in claims handling than most companies," he says.
"Most of the time, it depends on the size of the loss," Thomas says. "With smaller claims, the Public Adjuster basically has to spend the same amount of time, meetings, and such. But, the settlement amount will be lower, so the percentage for that type of claim will generally be higher."
All claim professionals agree you should not enter into a claim without at least speaking with a Public Adjuster. At least you will have an idea where you stand and if you're being treated fairly. Should I use a Public Adjuster… is clearly up to you. However, the proof is in the pudding. The use of a Public Adjuster will undoubtedly recover more proceeds for your claim.
Should I Use A Public Adjuster
was last modified:
February 22nd, 2017
by