Insurance Companies Use Adjusters. You Should Too!
There is a severe Conflict of Interest created by the insurance company when they send out…
THEIR Adjuster
Whose salary THEY pay
To estimate HOW MUCH
THEY owe
On YOUR CLAIM!
Your public adjuster NC, VA will ensure that you, the policyholder, obtains the maximum you are owed for property damage. We will review your Insurance claim at NO COST.
For The Public Adjusters NC, VA is a professional team of state-licensed public insurance adjusters, standing by to represent YOU… Just like the adjuster who represents your insurance company.
Schedule a Consultation
Get your property claim damage questions answered for free. No sales pitch, No pressure. Just answers.
---
How can an Independent Insurance Adjuster help you?
We are Independent Public Insurance Adjusters in NC, VA. For The Public Adjusters, Inc. will answer your insurance claim related questions and provide advice and assistance for insurance-related damages that are a result of fire, smoke, wind, water, flood damage, theft, hail, and hurricanes. Get in touch with us today!
HERE'S WHY YOU NEED TO HAVE AN
Independent Public Insurance Adjuster NC, VA On YOUR Side
As if severe damage to your property isn't enough, the second catastrophe can be dealing with your insurance company or an insurance company adjuster.
Most insurance claims can be very complex due to the large amounts of property that is damaged.
And, as you'd expect, most insurance companies want you to believe that they will live up to their end of the policy, and pay for all property damages incurred.
Yet, more and more policyholders are finding themselves fighting with insurance company representatives.
Insurance company adjusters act like the policyholder (you) is trying to take "their personal money."
There is really only one fact when it comes to any type of claim you have. It's not the adjusters money, or the insurance company's money.
It's your money. 
You are entitled to the full "Amount of Loss," for the damages that your home or business has suffered. A public insurance adjuster works for you, not the insurance company.
You should not and cannot be expected to fight a homeowners or business owners claim alone.
Well, technically, you can. But, we encourage you to bring in the experts. Here's why:
1. Their Adjuster
The insurance company will send out a claims adjuster (a hired gun) that works for "them" to assess and value the property damage you have suffered.
2. Their Advice
'Their' adjuster will advise you on how much 'they' owe for your claim. Or worse yet, how much "they" are willing to pay for the damage "you" have suffered.
3. Their Play
How do you know if 'they' are correct, or missing items, or purposely excluding others?
They sure have a lot of advantages by sending
their claims adjuster to your property.
Can You See How The Insurance Company Has Total Control Over You And How Much Your Claim Is Worth?
Shouldn't You Have A Representative That Assesses And Values The Property Damages You Have Suffered As Well?
Does it seem logical that a person should enter into a legal matter without proper representation? It would be similar to asking the IRS to do your taxes. I don't believe any sane person would request such things. If that's the case, then why would you allow your insurance company to value your claim?
It's a severe Conflict of Interest when an insurance adjuster represents both sides of the claim.
It only makes sense, right? Would you want to be on trial for murder without an attorney? Would you want the jury who will be sentencing you to only here from the States Attorney or the victims attorney?
Sounds ridiculous, doesn't it?
Can you see the problem and the conflict of interest that exists with a claims process that has only one claims adjuster that works for the insurance company?
Who works for you, the policyholder, the homeowner, the business owner? In most cases… the unfortunate answer is that no one is there guiding and assisting the policyholder. The homeowner is left alone to handle the claim damages themselves.
Or worse, most will simply rely on the insurance company adjuster's valuation of their loss.
1. Do You Know?
How do you know if the insurance company is paying all that your insurance policy allows?
2. Your Policy?
Do you know and understand everything in your policy?
3. Coverage?
Do you understand your coverage and the convoluted language of the insurance policy?
4. Your Costs?
Do you understand all the cost of repairing or replacing your home or building?
" We hired For The Public Adjusters, Inc. after we had a house fire .
"Our insurance company just didn't want to do anything for us. For The Public Adjusters, Inc. got us more than what the insurance wanted to settle for and we finally got a settlement and are moving on with the whole rebuilding process."
John A.  | More Reviews
Great Assistance, Enough Money Received!
I sought assistance from For The Public Adjusters, Inc. recently after my whole house caught on fire and destroyed everything. Fortunately, they were able to get me enough insurance money to cover the damage. The employees were polite, professional, and very helpful. This was my first time using them, fortunately. I would highly recommend For The Public Adjusters, Inc. for any who suffered a big accident and needs assistance!
Marisol H. | More Reviews
Can you really afford to give up an additional 300% to 1500% in claim proceeds by dealing with the insurance company by yourself?.
Take action now!
We're public insurance adjusters providing residential & commercial claim help in NC and VA.
At the very least, speak to a private claims adjuster to get some advice. It does not cost anything to speak to someone.
For the Public Adjusters list of services
Public Adjusting Tips & Resources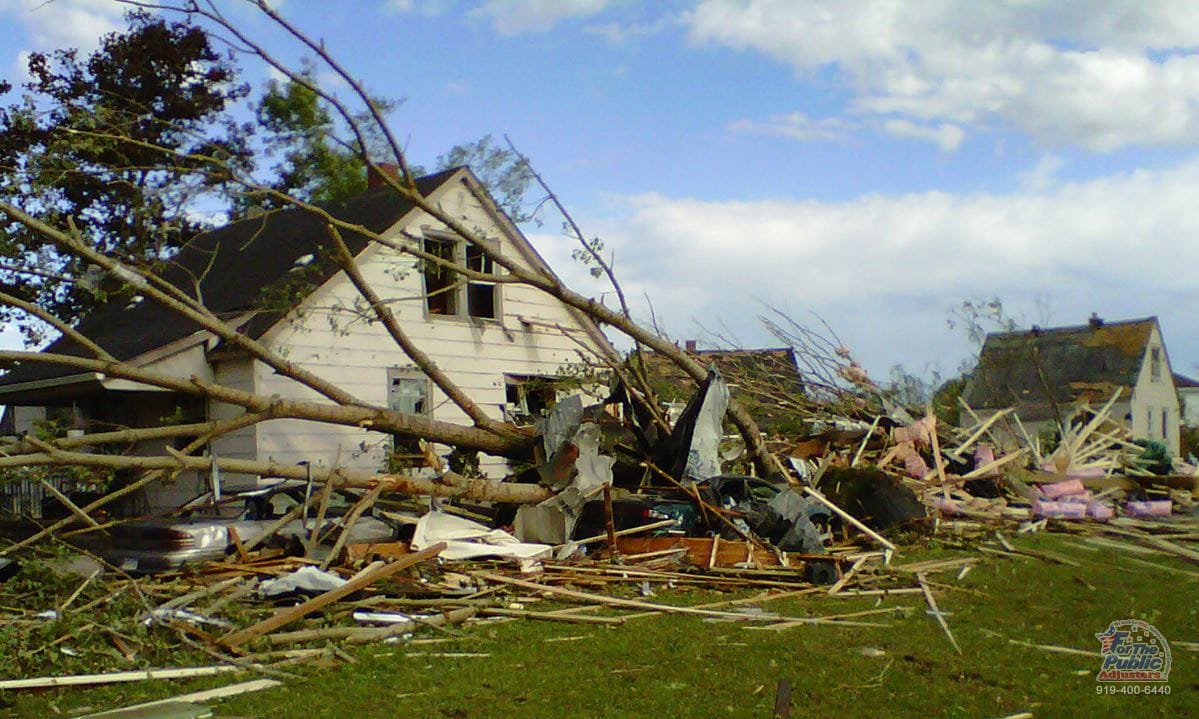 Policyholders who suffer property damage from tornadoes shouldn't fear if the words "Tornado Damage" does not appear in their homeowners' or businessowners' insurance policy. The word "tornado" does not exist in most insurance policies. However, what does exist is the...
read more
Home
was last modified:
August 10th, 2023
by