The winter season is a great one to spend with family and friends. Many of us love to curl up by the fireplace with a hot chocolate or a good book.
For as good as these things sound, there's also a harsh reality on the other side of things. Winter is also the season of house fires. Let's take a close look at some of the risks at this time of year and how you can prevent fires at your home and keep your family safe.
Use House Fires Safety
If you light candles during the winter, these can quickly become serious hazards if not closely watched. This tips list seems obvious, however, this is the cause of many house fires during the year.
It's important to only burn candles within your range of vision.
Blow candles out completely before you leave the room.
If you use matches to light them, dip the used match in water to completely snuff out the spark before you toss it in the trash.
According to the National Fire Protection Association, candles and holiday decorations are two of the top causes of residential fires, so it's important to stay vigilant during the festive season.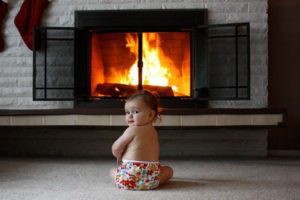 The winter also means spending time around the fireplace, but it's important to be careful! Don't leave a log burning overnight. Fireplaces left unattended, can toss a stray spark or ember causing a dangerous situation. To help protect your living space, you should also have a grate installed in your fireplace that separates your living room from the flame. This helps prevent logs that may shift in the fire from rolling out and into the room. You should also keep children and pets away from open flames, of course. Also make sure your chimney flue is open whenever you have a fire burning. If you haven't had your chimney swept lately, have it inspected. It's important not to use the fireplace until you're sure that the ventilation is working properly. This ensures that there isn't a dangerous buildup of creosote inside.
Check out the U.S. Fire Administration's website for more information on common causes of household fires and tips on preventing fire in your home.
House Fires Questions & How To Obtain Assistance
Rebuilding and recovering from a devastating home fire is tough enough, but doing it alone and fighting with your insurance company can make the already stressful situation worse. Fortunately, if you've had a fire in your home, For the Public Adjusters can help. We'll work with your insurance company on YOUR behalf. All in an effort to get you the best settlement possible. We can assist even if your claim is denied or you are offered less than what your damaged property is worth.
What Are Others Saying About Our House Fires Claim Services
Think you need house fires claim assistance? Feel free to read some of our satisfied customers' testimonials . Have Questions? Call Me Now to have your questions answered – 919-400-6440 .
House Fires Increase During Winter – What To Do?
was last modified:
February 15th, 2017
by