House Fire RALEIGH, NC  –
Fire damage investigators are researching to find the cause that sparked a homeowners fire within a set of town homes that left ten (10) people homeless. Sadly, a family dog that saved lives later perished in the late night Raleigh house fire Thursday.
The fire thundered through the homes of the Leesville Road homeowners at approximately 11:30 Thurs evening. Everyone managed to escape thanks to Sparky, the family dog. As the fire grew, the miniature Sheltie woke up owner, Chris Paine, by running around his apartment barking. Paine stated, "I thought there may have been someone around the property because you'd never hear a peep out of Sparky through the night."
As Paine went to investigate why Sparky was upset he saw smoke and fire his rear porch. "I ran to the back room to wake my fiancé and her son", said Paine.
As they fled their town home, they alerted neighbors and other adjoining homeowners to the fire. The Hassel family stated they were awakened by Paine's fiancé yelling and banging on their front door to wake up. Another family also got out of their home just mere steps ahead of the flames do to Paine and his fiancé's heroics.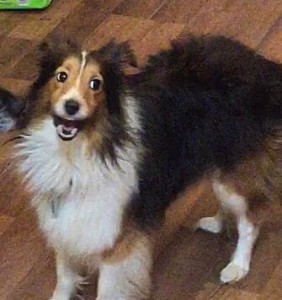 One homeowner who couldn't hold back the tears told CBS North Carolina, "That little dog saved all of us."
Although little Sparky saved 10 human lives, he unfortunately lost his own. After notifying his owner Chris that the home was on fire, he panicked and hid under a couch. Sparky's lifeless body was later found by firefighters and covered with a neighbor's blanket.
Homeowner's of the townhouses lost pretty much all their belongings. One homeowner stated, "We all still have each other thanks to Sparky." In sadness Paine said he was devastated to lose such a great little dog and that he will surely be missed. "I will be forever grateful to him for alerting us and saving our lives. I just wish he was still here so I could SHOW him how grateful we all are."
Raleigh fire officials reported that at least two of the homes have been totally destroyed by the fire.
After the ash settles these homeowners may still be up for a fight with their insurance company over how much is paid for the fire damage. If you, or someone you know has suffered a house fire you should seek assistance. The insurance company has an adjuster working for and protecting them, you need an insurance adjuster working for and protecting you as well.
Homeowners Dog Saves 10 Lives In House Fire
was last modified:
April 14th, 2016
by