A house fire can be one of the hardest things for a family to endure. The home means so much more than a place to live – it's also the epicenter of you and your family's lives, and is filled with memories of days gone by and better times.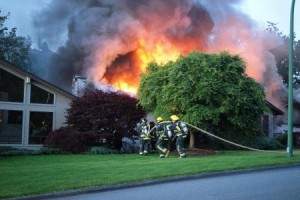 Along with the emotional stress of a blaze at your home, fires can cause financial pain as well. A house is likely the largest investment a family will ever make and houses almost all of the family's most treasured belongings. It's important that people understand how to recoup these losses after a tragedy so the pain felt does not extend further.
Here are a few tips on the first steps that come when working with your insurance company following a home fire to help you and your family get back on your feet as quickly as possible.
Document the Details of Your Home
This is the first step, but also a key part of the process. Take photographs of the damage to each room in your home. You are looking here at just the structural parts of the home, such as walls, windows and floors. We recommend working clockwise around your home as a way to both keep organized when going through photos later and to ensure you don't miss any areas.
Document Content Damage
In the same order you photographed the structure of your home, now go back and take photographs of any large or expensive items that were damaged, such as furniture, appliances or electronics. This will help you to take a full inventory of the fixtures of your home that you'll need to replace so that you can submit it to the insurance company.
Read Your Fire Policy
Most homeowners know nothing about their fire insurance. If your home is damaged, request a certified true copy from your insurance provider and then read it in full, including how much coverage is available, if your insurance will pay for a hotel and any other claims you can make.
Talk to a Fire Damage Professional
Fire policies can be confusing, so make sure to speak with an expert like those at For the Public Adjusters who work with you and walk you through the steps of making your claim to ensure you get everything you are owed. We're an advocate for victims of natural disasters and fires, and we work diligently to help you recover what you've lost from the blaze through your insurance coverage. To learn more about our homeowners fire claim assistance program, give us a call today at 919-400-6440.
From the Ashes: First Steps to Take After a Fire
was last modified:
March 16th, 2016
by