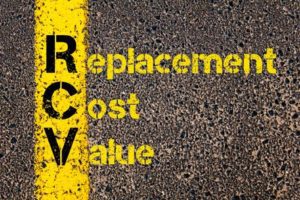 If you ever experience extensive damage in your home due to a fire, flooding or another disaster and you are forced to call on your insurance company for help, you will quickly learn the difference between actual cash value, or ACV, and replacement cost value, or RCV. You will also find out why it's important to have a reliable public adjuster on your side throughout the process if you want your insurance company to pay what's fair during your rebuilding process.
What's the Difference?
Actual cash value coverage accounts for the cost of replacing the parts of your home or the property inside of it that has been damaged or destroyed during a life-altering event after factoring in depreciation. This means that your insurance company is not going to be willing to buy you a brand-new refrigerator to cover the loss of a refrigerator that was 10 years old. Instead, they will put a value on your original refrigerator and provide you with a much lower amount of money that you can then use to pay for part of a new refrigerator. This is the original value minus the depreciation of 10 years of use – in other words, what it is worth as a "used" item.
Replacement cost value, on the other hand, accounts for the cost of replacing the parts of your home or the property inside of it that has been damaged or destroyed during a life-altering event without deducting any money for depreciation. There is usually a maximum dollar amount attached to RCV, but it will allow you to replace your home or property more easily. This coverage means, to continue with the example, that if your refrigerator was destroyed, you would be eligible for a payout that would replace that fridge with the same model or similar modern equivalent, ensuring that you can return to the same standard of living that you enjoyed before the disaster affected your home or business.
How Having a Public Adjuster Can Help
The problem with both ACV and RCV is that, often times, insurance companies have the final say when it comes to determining the value of our items. By working with a public adjuster and having them communicate directly with your insurance company, however, you can work to ensure you are treated fairly and receive the payout you are owed.
These coverages extend to much more than just your belongings. In fact, ACV and RCV can impact the payout for your property damages as well. With that in mind, it's important to make sure that your damages are accurately accounted and tallied so that you receive the maximum payout for your belongings to help you recover. Working with a public adjuster, our clients have found that they receive a much more favorable payout than insurance companies offer on their own. This can help expedite the rebuilding and recovery process and allow you to return to normalcy more easily.
Whether you have ACV or RCV coverage, a public adjuster from For the Public Adjusters can help explain the differences to you and work on your behalf to help you get the greatest payout from your insurance company quickly. If your home has been damaged from a fire, flood or other disaster and you're facing an insurance claim, call our team today at 919-400-6440 and find out how our services can help you with your claim.
ACV vs. RCV: What Are They and Why Do They Matter?
was last modified:
December 6th, 2016
by